In 2021, for the first time in 26 years, a world conference on women's rights is being held: the Generation Equality Forum. It kicked off in Mexico City in March and will culminate in Paris in June 2021.
To contribute to the success of this major event and to advance equality and women's rights, XOESE, the Francophone Women's Fund and the Congolese Women's Fund launched the campaign JE M'ENGAGE! 
The goal of this campaign is to mobilize local actors in Francophone Africa and Haiti to make concrete commitments in support of the six Coalitions of Action and the Women, Peace and Security and Humanitarian Action Facility to be launched during the Paris Forum.
On this page, you will find everything you need to know about our campaign, I COMMIT!
The Generation Equality Forum (GEF) is a global gathering for equality between women and men, organized by UN Women and co-chaired by France and Mexico, in partnership with civil society. It kicked off in Mexico City from March 29 to 31. The Forum will culminate in Paris from June 30 to July 2, 2021.
The GEF marks the 26th anniversary of the Fourth World Conference on Women. The Fourth World Conference on Women, held in Beijing in 1995, marked an important turning point in the global agenda for gender equality with the adoption of the Beijing Declaration and Platform for Action.
Despite the commitments made in Beijing, and the progress made since, no country can claim to have achieved equality between women and men today.
The GEF will therefore take stock of progress made and accelerate progress by developing an agenda of concrete actions to achieve gender equality by 2030.
At the heart of this commemoration is the multi-generational advocacy campaign launched by UN Women: "Generation Equality: For Women's Rights and an Equal Future". To meet the challenge of women's empowerment, actors of all ages, genders and sectors must be involved.
Currently, the commitment of Francophone actors in this process is insufficient. This is why XOESE and its partners have decided to launch the JE M'ENGAGE!
On May 12, 2021, XOESE and the Congolese Women's Fund launched the I COMMIT! campaign at a Zoom meeting with their partners.
Chanson officielle de la campagne Je m'engage !
Chantez notre engagement ! 
Ensemble pour la Génération Égalité
Le droit à la justice et la liberté
Pour l'égalité de genre, je m'engage!


Cette chanson célèbre le travail de ceux qui se sont engagés envers les objectifs et les initiatives du Forum Génération Égalité. Merci à tous nos partenaires et aux groupes de plaidoyer nationaux qui nous ont rejoints dans cet effort pour aider à faire connaître le Forum, augmenter le soutien financier réel pour ces initiatives et améliorer la vie des femmes et des filles à travers le monde.
Groupes nationaux de plaidoyer
Depuis le lancement de la campagne le 12 mai 2021, 12 groupes nationaux de plaidoyer ont été constitués pour mener les actions dans leurs pays respectifs :
Bénin

Cameroun

Burkina Faso, Mauritanie

Niger

Sénégal

Haïti

Togo

Côte d'Ivoire

République Démocratique du Congo

Burundi

Mali.
Les équipes bureau des autres pays sont toujours en cours de création.
Pour faciliter le travail des groupes de plaidoyer, l'équipe de coordination de la campagne mets à disposition une boîte à outils contenant :
Présentation de la campagne JE M'ENGAGE!

Liste de différentes cibles et types d'engagements possibles

Pourquoi s'engager ?

Supports

Posters

Autocollantes

Pancartes

Fiche d'engagement

Réseaux sociaux 

Lettre d'invitation
Comment participer au Forum Génération Égalité ?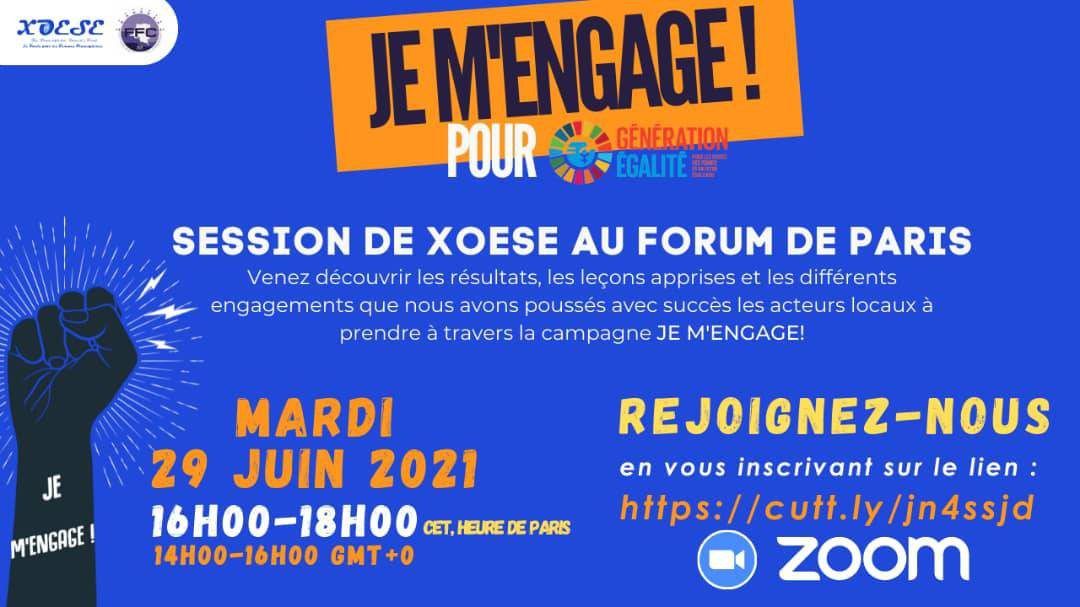 Récapitulatif du Pré-événement de XOESE pour le Forum Génération Égalité
Le 29 juin 2021, nous avons organisé une session en tant qu'événement de compte à rebours pour le Forum Génération Égalité. Cet événement, Je m'engage pour la Génération Égalité !, sert de point culminant à la première phase de notre mission de campagne. 
Lire l'article en cliquant sur le bouton ci-dessous afin d'apprendre plus sur les objectifs, les intervenantes, les mobilisations / les engagements mobilisés par les coalitions nationales, et pour accéder à l'enregistrement de la session et plus encore. 
Quelques exemples d'autocollants JE M'ENGAGE!