From February 27 to 28, 2023, forty women and men from different African francophone feminist organizations took part in Operation Agojie, an initiative of XOESE, the Francophone Women's Fund. Placed under the theme, Holistic Security and Virtual Transition, this training aims to equip women's rights organizations with weapons to secure themselves, their work environment and succeed in the progressive integration of digital technology in their daily activities.
What are Agojié operations ?
As part of XOESE's capacity building program, Operation Agojié is a short virtual training session on different areas that allows participants to obtain more tools (weapons) in the areas covered.
The name Operation Agojié is not chosen by chance. Agojié refers to an exclusively female military elite in the history of the ancient Dahomey Empire (now Benin). Women warriors who sacrificed and dedicated their entire lives to the protection of the kingdom. It is in reference to the image of these strong, skilful, brave and most courageous women that XOESE has named this formation Operation Agojié.
The aim of this training is to provide representatives of women's organizations with the necessary tools (weapons) to prepare them for the virtual transition and to raise their holistic security levels.
The first edition of Operation Agojié, a pre-event of CSW 67, is coupled with the activities organized by XOESE within the framework of the Commission on the Status of Women CSW 67 (2023), which will be held from March 6 to 17, with the priority theme of digital: Innovation and technological change, and education in the digital age to achieve gender equality and empowerment of all women and girls. This training is dedicated to women's rights advocates from 16 francophone feminist organizations and focuses on the theme: Holistic Security and Virtual Transition.
Course of training
It took place over two days, precisely on Monday 27 and Tuesday 28 February 2023 with the participation of more than 44 representatives of feminist organizations. Different themes related to holistic security and virtual transition were at the heart of the discussions between specialists, guests and participants during the two days of training.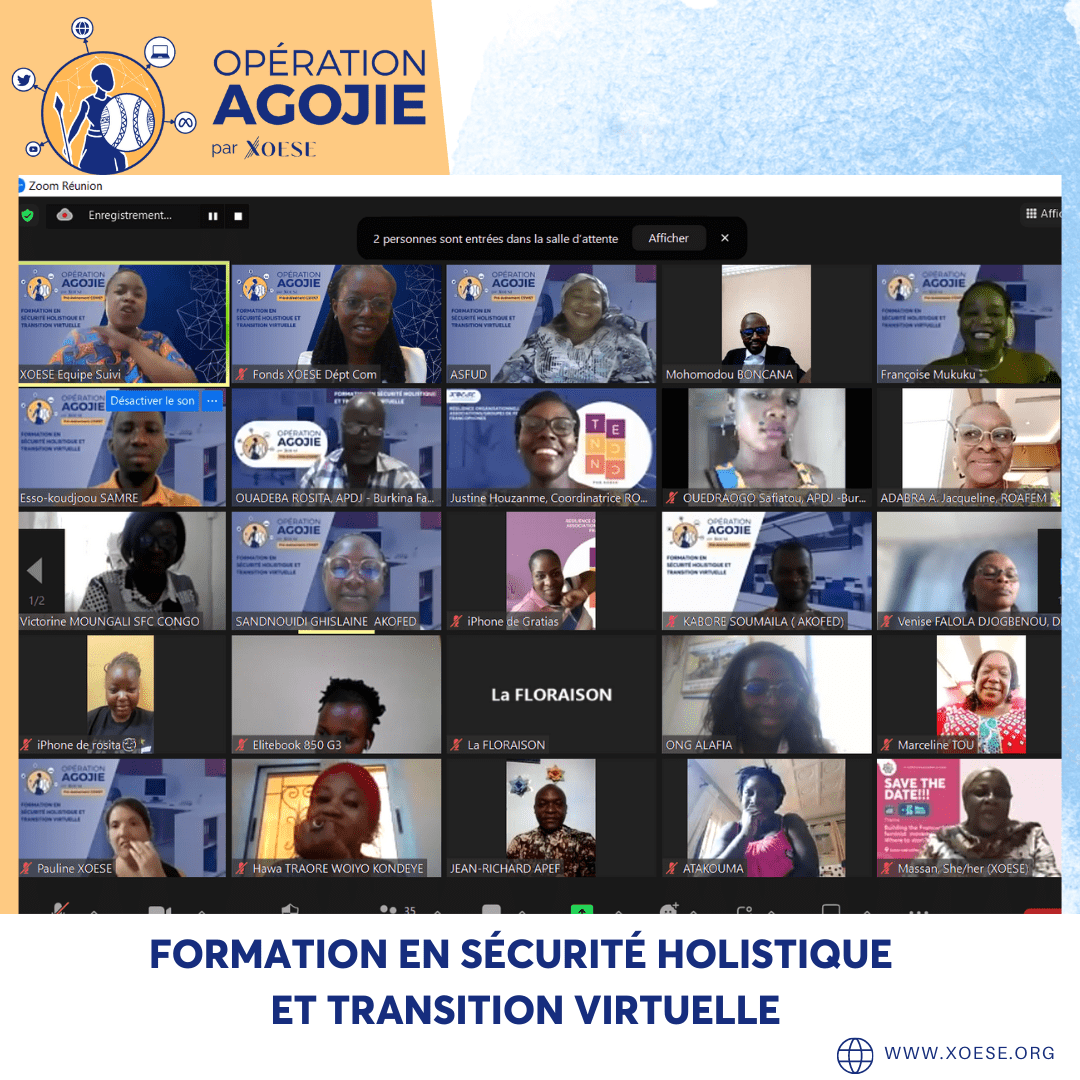 Such as:
The link between Holistic Security and Virtual Transition, the tools of virtual security facilitated by Steffie Kueviakoe
Holistic Approach to Security: Focus on Mental Health, led by Aïcha Bouraïma
Why and how to make a shift to all virtual or hybrid? animated by Françoise Mukuku
And the dangers of the net: cybersecurity needs by Fabien Leimgruber from Cyberpeace instutute
This training was received with enthusiasm and admiration by the representatives of women's organizations who were equipped with the multiple weapons to remain digital agogies. Some impressions of the participants during the training: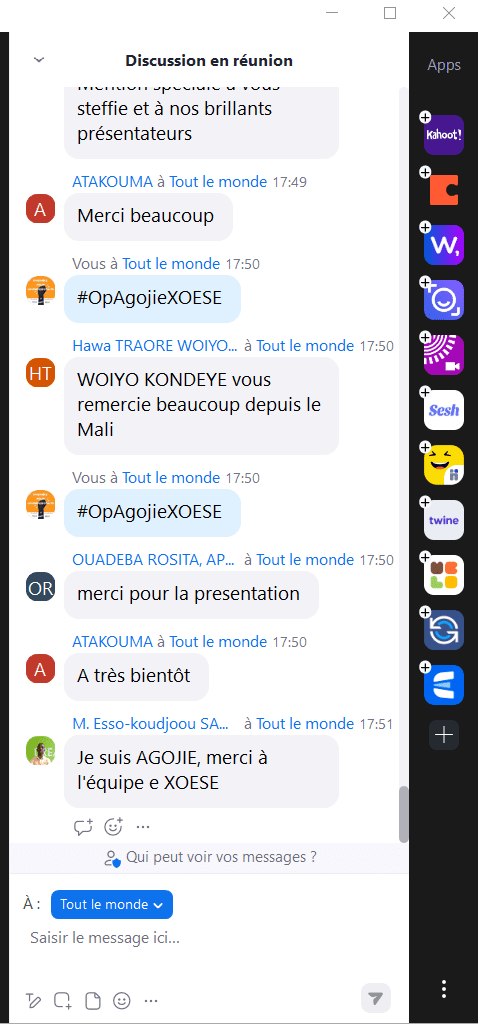 What are the beneficiary organizations of this edition of Operation Agojié ?
A total of 16 women's organizations already supported by XOESE have been selected following a call for applications for Operation Agojié. (4 participants maximum per organization). They will be board members and/or executive team members. Below is the list of selected organizations.
| | | |
| --- | --- | --- |
| N° | Names of the organization | Country |
| 1 | RESCUE AND HOPE | Bénin |
| 2 | ROAFEM | Bénin |
| 3 | Association pour la Promotion des Droits des Jeunes | Burkina Faso |
| 4 | Action communautaire pour le Bien-être de l'Enfant et de la Femme au Burkina(ABEFAB) | Burkina Faso |
| 5 | AKOFED | Burkina Faso |
| 6 | Solidarité des Femmes pour le Bien-être Social et le Progrès au Burundi | Burundi |
| 7 | Réseau Ivoirien pour la Défense Des Droits de l'Enfant et de la Femme (RIDDEF) | Côte d'Ivoire |
| 8 | WOIYO KONDEYE | Mali |
| 9 | La Floraison | République démocratique du Congo |
| 10 | Women in Action for Human Dignity (WAHDi asbl) | République démocratique du Congo |
| 11 | Association S.O.S Femmes Du Congo | République du Congo |
| 12 | Association Pour l'Epanouissement de la Femme | Tchad |
| 13 | Réseau des Associations de Femmes en Action pour le Développement (RAFAD) | Togo |
| 14 | ONG ALAFIA | Togo |
| 15 | Women in Law and Development in Africa (WiLDAF-TOGO) | Togo |
| 16 | Aklala Batik | Togo |