XOESE in collaboration with GFCF Global Fund for Community Foundations and the Just Society Foundation launched the Tenɔnɔ program which means resilience in the Ewe language (a lingua franca spoken in Togo, Benin, Ghana, and Côte d'Ivoire), the program aims to build the capacity and resilience of local women's organizations to be effective, sustainable, and independent actors contributing to gender equality and women's empowerment. This program includes several Tenɔnɔ components including a training, a coaching session, and a grant.
The Tenɔnɔ Training 
The Tenɔnɔ Training aims to strengthen the organizational resilience of francophone feminist groups through the acquisition of useful and effective tools and the development of resilience strategies in the face of crises.
This training will provide beneficiary women's organizations with the necessary skills to understand the principles of organizational resilience and to appropriate different levers that carry them, to develop tools for the organization that will allow it to go through crises and emerge with integrity and transformation as well as to identify resources that will activate, accelerate and perpetuate resilience.
The course is planned in a dynamic and interactive format for six (06) weekly sessions of a minimum of three (03) hours per day, followed by individual work to be done for a better assimilation of the concepts taught.
Each session will address an essential theme allowing the organization to launch and achieve its organizational resilience process. The training will address, among other things, the themes of organizational resilience, the implementation of organizational resilience in the structures, the mobilization of resources…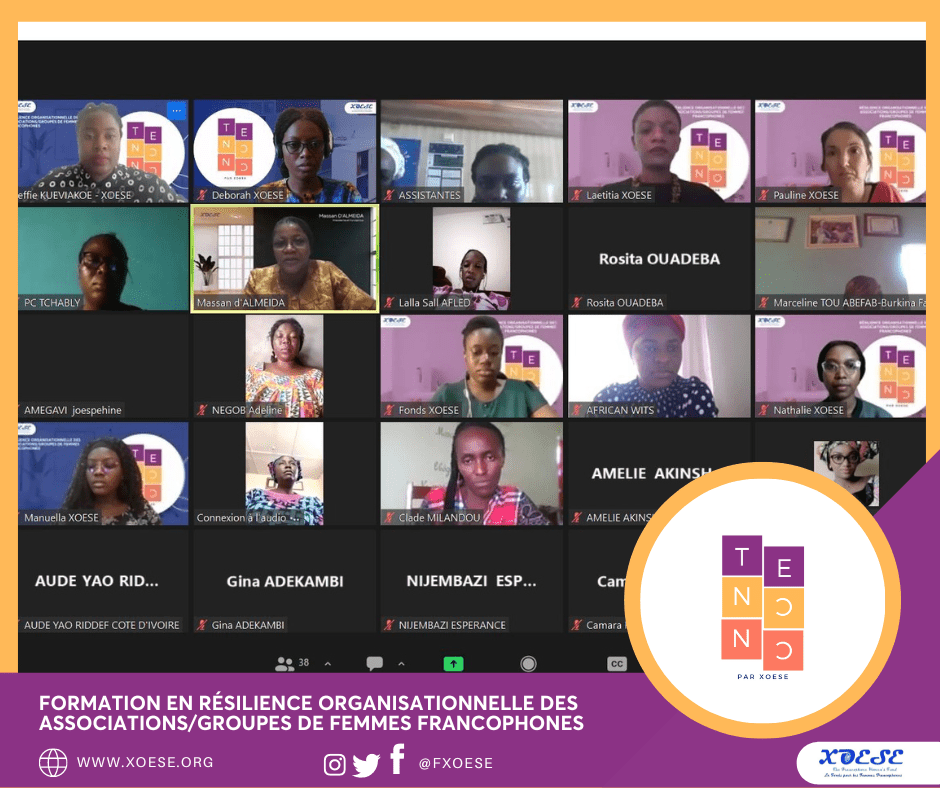 Who participates in this training?
This first cohort launched on October 6, 2022 includes 31 (presidents, directors, and managers of …) Francophone women's organizations in 12 African countries (Benin, Burkina Faso, Burundi, Cameroon, Côte d'Ivoire, Mali, Niger, Democratic Republic of Congo, Republic of Congo, Senegal, Chad and Togo) who were selected according to a well established criterion by XOESE.
Tenɔnɔ grants 
At the end of this training, grants will be awarded to Francophone organizations that participated in the training and stood out during the selection process, these grants will provide financial support to organizations to concretize this organizational resilience process.
Through this program, XOESE intends to help organizations trigger this process of organizational resilience, which is essential to the maturation of their organizations.